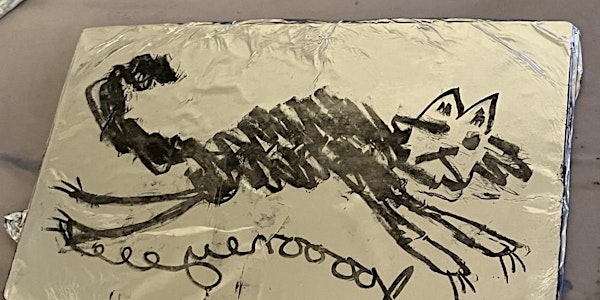 Tickets on EventBrite for this Sunday, August 13 · 2 – 5pm EDT workshop
This is not your typical craft class. Make-Along is a self-guided craft workshop where participants learn new skills, explore new materials, and make great things!
August Make-Along: Kitchen Lithography
Start by making a drawing on aluminum foil, and then through the chemical magic of cola and vegetable oil, turn it into a printing plate that you can print on Resistor's etching press! No printmaking experience is required, but if you are an expert, come share your wisdom! Bring ideas for drawings and designs – we hope everyone will have time to make and print at least two images.
Kitchen lithography was invented by the French artist Émilie Aizier, adapting the traditional technique of stone lithography to more common materials. Drawings in grease pencil on the foil repel water and soda but attract oil-based ink, and the mild acids in cola prepare the aluminum background to hold a film of water and repel the ink. It kind of looks like magic, but it's chemistry!
Oils and inks can be messy! We will supply gloves, but please wear clothing that would be improved, rather than ruined, by stains.
This workshop is masks optional.