Experience Riho Hagi's Edible NFT at the Interactive Show coming up June 10!
View this post on Instagram
"This work allows users to experience the paradox of a one-time ephemeral experience of dining, a momentary experience that is permanently recorded on the blockchain as a digital record. The work uses sodium alginate to create caviar-like spheres based on each user's bio-data. As soon as it is generated, blockchain technology is utilized to record who generated the piece and when, permanently documenting the action. By viewing consumption as a form of art, this work challenges new ideas of food permanence and offers a culinary experience of the future."
Artist: Riho Hagi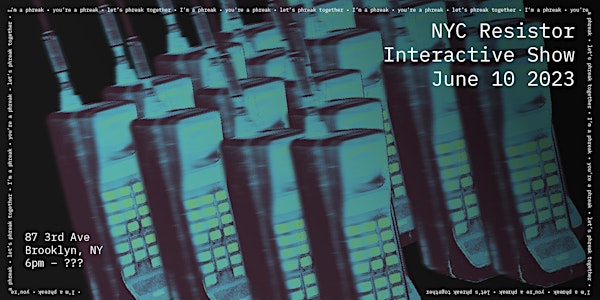 The 13th Annual Interactive Show: Robot Phreak Show
NYC Resistor's Interactive Show returns for its 13th iteration. Our annual party and fundraiser invites hackers from around the region to show off their cool interactive projects with free beats and beers provided. Tickets $17.85 ($15 + fees) in advance, $20 at the door.
This year's theme is Robot Phreak Show. Our bots have been cooped up too long, it's time to let their chaos reign. More projects to be announced soon. Keep checking the Resistor Blog and follow us on Instagram for previews!