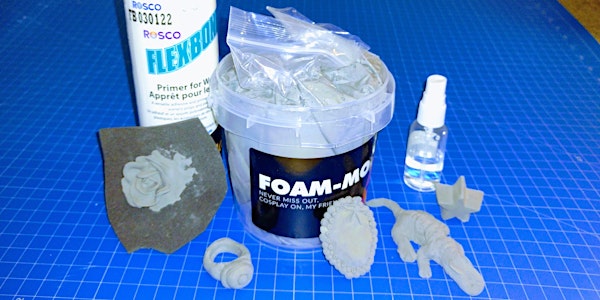 Return of the Make-Along! These are not your typical craft classes. Make-Alongs are self-guided craft workshops where participants learn new skills, explore new materials, and make great things!
October's Topic: Foam Clay
Tickets available on EventBrite
Try foam clay in a casual community workshop environment. Foam clay sculpts or molds like clay, but dries into a flexible foam. Its flexible, light, and non toxic properties make it a popular material in the cosplay and props communities, as well as for jewelry or sculpture. Want to futher refine your piece? The dried foam clay can be cut with scissors and sanded (by hand or rotary tool) just like EVA foam. It can also be painted or coated to make it more colorful and durable. No experience needed! Class includes all supplies needed. Trade ideas and techniques with other attendees. Great opportunity to start a costume piece for Halloween or any other occasion.
Are you a beginner? We'll provide materials including foam clay, thin EVA foam sheets, paints, adhesives and coatings.
Are you a master? Show off your skills and inspire others! Bring a project, use our materials, and hang out in a great space while doing what you love.
This class will be lead by NYC Resistor members, Ben and Ben.