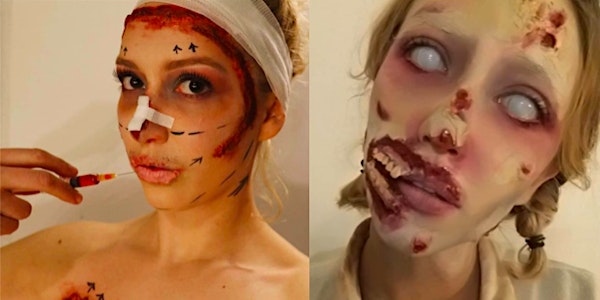 Spooky season is almost upon us so this is the perfect time to learn some skills to impress this Halloween. In this class you will learn how to make bruises, cuts and wounds. You will learn about different products and experiment on yourself and/or your co-classmates. All materials will be included with the ticket.
This class will be lead by NYC Resistor member, Manon Raman. Manon is an artist who was born in Belgium but has been living in New York for the past year. She is a full time painter now but before she used her skills on canvasses she was a make-up artist for series and movies in her home country.
Due to the ongoing Covid-19 pandemic, RSVP AND PROOF OF COVID VACCINATION ARE ALL FIRMLY REQUIRED. All attendees must present photo ID and one of the following:
CDC card showing you completed your final vaccine dose at least two weeks ago.
A photo of your completely filled out CDC card.
We're keen to see you, but these requirements are firmly enforced. Masks will be optional for this event, due to special considerations for the use of make-up. Typically NYC Resistor is a mask required space.
As with all NYC Resistor events, this class is 18+ and governed by our Code of Conduct. The Code of Conduct, as well as accessibility information, can be found at www.nycresistor.com/participate/.
Please note that refunds must be requested 72 hours in advance. If you have any questions, please email [email protected].