Come join us for a class! Tickets are available on Eventbrite.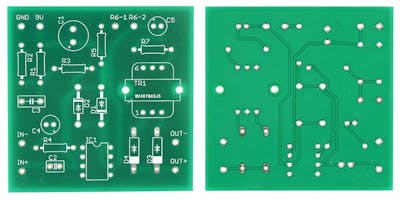 Have you ever envied those beautiful green printed circuit boards (PCBs) that all modern electronics have?  Do you want to kick up the professionalism in your projects with a real PCB?  Would you like to simply learn how to better document your circuits with a nicely done schematic?
Sign up for this PCB design class and we'll teach you how to use the awesome, free EAGLE PCB design program (Mac/PC/Linux). You'll learn how to draw schematics, find the right footprint, lay out a circuit board, route the circuit board, and finally prepare the board for production.  We'll even show you where you can go to have your boards made.
Make sure you bring a laptop to participate during class and design your own circuit! Please download and install EAGLE from https://www.autodesk.com/products/eagle/free-download prior to the class.
class Instructor: Matt Berggren, Director, Fusion Electrical at Autodesk
class TA: NYC Resistor member Sophi Kravitz
Event image is from Randy Sarafan's free Instructables PCB Design class: https://www.instructables.com/class/Circuit-Board-Design-Class/