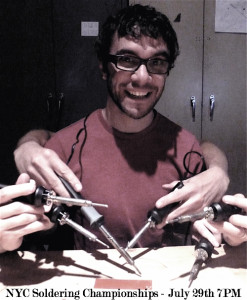 I've had a number of inquiries about the rules of the soldering championship all set to happen at 7:15 at M1-5 this Tuesday.
Here's the details that have been revealed so far.
With solder irons blazing, and the power of molten metal at their finger tips, New York City's electricity enthusiasts and hardware hackers will connect components to complete circuits for the glory of being the fastest soldering gun in NYC.

On stage and under hot lights, contestants will complete an electronics kit in the shortest time possible while still maintaining the integrity of the circuit. Who will be New York City's soldering champion? You'll need to be there to find out!

Doors open at 6:30. Competitor check in until the competition starts promptly at 7:15 PM.

$30 entry fee to cover the cost of the kit. It's a really cool kit! (Undisclosed so you can't practice on it!) We will have power strips available.
Here are some bonus details.
1. The kit you will be assembling is a through-hole kit that an experienced solderer can complete in less than 30 minutes. It's a cool and practical kit that you'll actually use. (Next year, with more lead time, I want to create a kit that has an surface mount component just to be evil.)
2. There will be a trophy for the fastest and I'll have a few NYCResistor T-shirts to give out for the first 3 people there to check in.
3. You can use any soldering iron that you bring. (Next year, I may make you use a crappy super cheap iron just to be evil.)
4. No helping hands. (There had to be at least one evil rule!)
I am really looking forward to this competition. See you at M1-5 on Tuesday for check-in and may the best solderer win!
This event is part of Ignite, a geek night that Brady and I founded. There will be awesome presentations after the championship that you should stick around for.