With solder irons blazing, and the power of molten metal at their finger tips, New York City's electricity enthusiasts and hardware hackers will connect components to complete circuits for the glory of being the fastest soldering gun in NYC.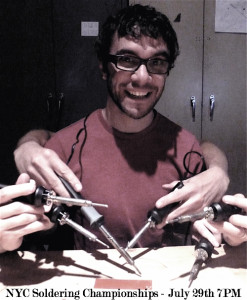 On stage and under hot lights, contestants will complete an electronics kit in the shortest time possible while still maintaining the integrity of the circuit. Who will be New York City's soldering champion? You'll need to be there to find out!
Pre-Registration Required – Link
Competitor check in from 6:30-7PM.
Competition starts promptly at 7:15PM
$25 entry fee to cover the cost of the kit. (Undisclosed so you can't practice)
We will have power strips available.
Space is limited to 25 contestants and will be on a first come, first served basis!
Location is M1-5
Requirements
1. Be able to solder, this is a competition, not a class.
2. Be 21.
3. It's advised that you bring your own soldering iron and solder.
Once the smoke has settled, it'll be time for the pechakucha-inspired lightning-style ignite talks. This format is a blast and you'll want to stick around for the presentations! (I know a few NYCResistors will be giving talks!)