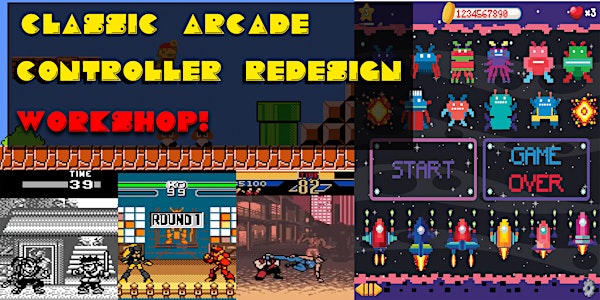 Pay-what-you-wish tickets available on EventBrite for this Saturday, October 21 · 1 – 3pm EDT workshop
The Scrapyard Challenge: Classic Arcade Controller Redesign Workshop is an interactive, arcade controller design workshop where participants will build novel controllers for classic arcade games such as Street Fighter, Ms.PacMan, Pacman, Donkey Kong, Crash Bandicoot, Super Mario Bros, Mario Kart, Centipede, and more. Participants are split into groups and can choose a classic video game and design a novel controller (the crazier the better!) to control all aspects of the game such as 1, 2, 3 player controls, action buttons including jump, kick, punch, shoot, magic and controller directions such as up, down right, left. The goal is to make each game as interactive as possible with full-body control systems built from scrap materials and junk. The workshop uses USB encoder boards and RaspberryPi computers running RetroPie for game emulation.
No electronics skills are necessary to join, all skill levels welcome!
NOTE: For this workshop participants are encouraged to bring "junk" to the workshop to hack on. This can include: Misc gadgets – basically any old kids toys that have moving parts are good – like a kids mini garage set or a plastic radio or plastic doll house, etc.. on the gadget side – things like electric can openers, fans, old record players, RC cars, etc…
Scrapyard Challenge Workshops: http://www.scrapyardchallenge.com
The Organizers:
Jonah Brucker-Cohen is an award winning researcher, artist, and writer. He is an Associate Professor in the Department of Journalism and Media Studies at Lehman College / CUNY in the Bronx. He is a New INC. mentor, was a New York Hall of Science Designer in Residence, and a visiting artist at Cornell Tech. He received his Ph.D. in the Disruptive Design Team of the Electronic and Electrical Engineering Department of Trinity College Dublin. His work focuses on the theme of "Deconstructing Networks" and includes over 100 creative projects that critically challenge and subvert accepted perceptions of network interaction and experience. His artwork has been exhibited at venues such as SFMOMA, Canadian Museum of Contemporary Art, MOMA, ICA London, Whitney Museum of American Art, Palais du Tokyo, Tate Modern, Ars Electronica, Transmediale, and more. His projects, "Bumplist" and "America's Got No Talent" are both included in the permanent collection of the Whitney Museum of American Art. His writing has appeared in publications such as WIRED, Make, Gizmodo, Neural and more. His hardware hacking Scrapyard Challenge workshops have been held in over 15 countries in Europe, South America, North America, Asia, and Australia since 2003. http://www.coin-operated.com Twitter: @coinop29
Katherine Moriwaki is Associate Professor of Media Design in the School of Art, Media and Technology at Parsons School of Design. She teaches primarily in the MFA and BFA Design + Technology Program. Katherine is an artist, maker, and interactive designer. Her work has been exhibited and presented internationally in conferences, festivals, and museums around the world. Katherine is a founder of the "Scrapyard Challenge" a workshop in which participants create electronic interactive objects out of found materials and junk. She is co-author of "Fashion and Technology: a Guide to Materials and Applications" published by Fairchild/Bloomsbury. http://www.kakirine.com Twitter: @kakirine