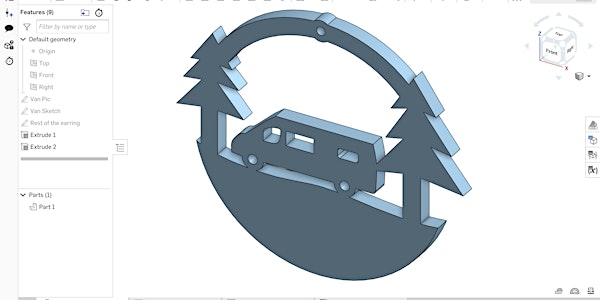 Tickets on EventBrite for this Sunday, October 8 · 1 – 4pm EDT class
In this class you will learn how to use Onshape, a free, intuitive, cloud based design software.
Onshape designs are great for:
3D printing
laser cutting
CNC
Metal casting
blueprints for projects
DIY projects, art, jewelry, furniture, robots, whatever!
Onshape is NOT great for:
Animation / video game design (Learn something like Blender for that)
IMPORTANT INFO
Bring your laptop!
Create a free account at www.onshape.com
The class will start with a one hour overview of the basic features of Onshape. You will follow along with me while we all create something together. The best way to learn is trial by fire so the last two hours of class you will create your own design. The class size is kept small so everyone can receive personalized instruction if they get stuck. You can design whatever you want so come to class with some ideas!
Your Instructor, Caleb Young:
I worked as a mechanical engineer out of college designing machine parts using software similar to Onshape. A few years ago I switched into software engineering and now build things as a hobby. I've built furniture, jewelry, 3D printers, laser cut maps, and converted a camper van! Onshape helped me with all of this so I'm excited to share my knowledge with fellow artists and builders!
This class is masks optional.