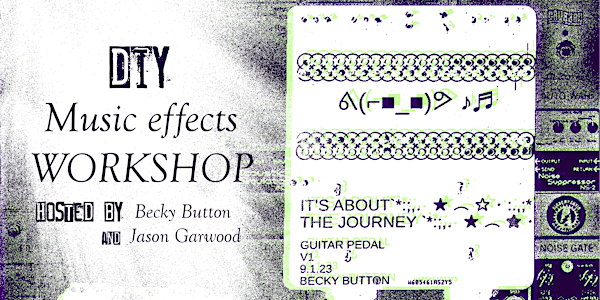 Tickets for this Saturday, October 7 · 1 – 4pm EDT workshop are on EventBrite
Musical effects are for everybody! Join this workshop and get hands-on experience assembling and programming your very own stomp box using the Daisy Seed, a microcontroller specifically designed for music applications. By the end of the workshop, we will understand how code is used to modulate audio input in your custom stomp box.
We will begin by understanding how various effects function and then assemble a custom PCB and enclosure for your very own stomp box. After assembly and testing, we will learn how to program the boards with custom effects using Visual Studio code. The remaining time will be for participants to tinker, ask questions, or participate in an improvised jam session with their newly assembled stomp boxes.
Who should participate:
Musicians who want a custom, reprogrammable, and low-cost effects pedal, those curious about effects pedals, and people who want to explore experimental music making but don't yet know how or are deterred by the cost of equipment.
Participants will be soldering and assembling the boards. We are happy to teach you how to solder and give support for assembly as needed. All instruction and build materials will be provided and included with the price of the workshop. We will also assist with reprogramming the pedal as needed. We will do everything we can to make this a great experience for all who participate.
What to bring:
Please set up your software environment ahead of time using the instructions here so we can focus our time together on assembly and programming. If you are interested in participating in the jam session, please bring a speaker or amp to plug your new device into. If you have an instrument you want to bring that has a standard ¼" jack, bring it! If you don't we will have some contact mics available for you to borrow. We will have a limited supply of ¼" cables, so if you could bring some that would be a huge help.
Your instructors:
Becky Button and Jason Garwood are a transdisciplinary creative team with backgrounds in Electrical Engineering, Architecture, and Human-Computer Interaction. Heavily influenced by the experimental electronic music scene, they work in improvised music and tech-driven experiential visuals. After studying together at Carnegie Mellon, they are sharing their love for performance and community by destigmatizing music tech. Follow them on Twitter: @einsteinunicorn and @jasontgarwood 🙂
*Participants will be asked for their feedback to help improve the kit through a survey.
This class is masks optional