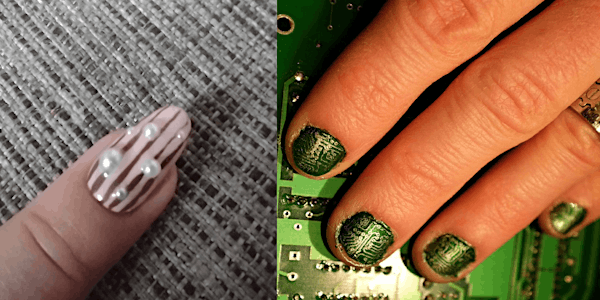 Tickets for this Saturday, July 29 · 3 – 6pm EDT workshop are on EventBrite

This is not your typical craft class. Make-Along is a self-guided craft workshop where participants learn new skills, explore new materials, and make great things!
July Make-Along: Nail Art!
This all-genders class is aimed at tricking out your manicure (or pedicure)… in simple but unique ways using templates & stamps.
Are you a beginner? We'll provide nail polish, nail stamps, a variety of tools to make your nails all the more awesome.
Are you a master?  Show off your skills and inspire others!  Bring a project, use our materials, and hang out in a great space while doing what you love.
NAIL POLISH EXCHANGE: Did you buy a polish you've never used, or you used once and it made you look like you had some sort of Pirate-related scurvy disease? Back by popular demand: bring any you don't love, and go home with others you do love!
Some suggestions for design ideas are here:
http://pinterest.com/colleenaf/nail-art/