Experience Jonah Brucker-Cohen's WordPlay at the Interactive Show coming up June 10!
""WordPlay" is an interactive installation that allows people to create and publish novel stories by selecting individual words from a combination of word types. Using a similar method of the popular kid's game, "Mad Libs", WordPlay invites the public to choose from a selection of "nouns", "verbs", "adjectives", and "adverbs" printed on RFID (Radio Frequency Identification) cards and add them to system. WordPlay collects and visualizes each word by remixing a selection of text based quotes and facts. Once completed, the final story or passage is displayed on the screen allowing the public to read their stories. The resulting text is time stamped and encoded into a unique URL, and uploaded to the project's website and Twitter where the public can read online what was created inside the exhibition space in realtime. Output from the project is here on the website: http://www.wordplay.xyz"
Artist: Jonah Brucker-Cohen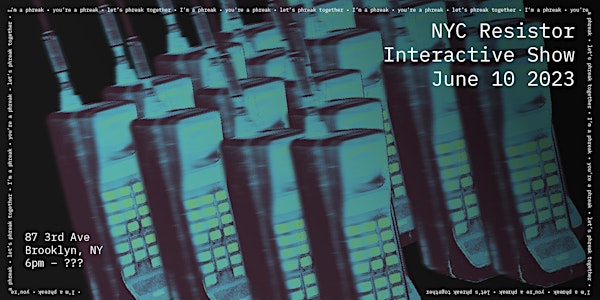 The 13th Annual Interactive Show: Robot Phreak Show
NYC Resistor's Interactive Show returns for its 13th iteration. Our annual party and fundraiser invites hackers from around the region to show off their cool interactive projects with free beats and beers provided. Tickets $17.85 ($15 + fees) in advance, $20 at the door.
This year's theme is Robot Phreak Show. Our bots have been cooped up too long, it's time to let their chaos reign. More projects to be announced soon. Keep checking the Resistor Blog and follow us on Instagram for previews!