Experience Kari Setsuko Love's Pneumatic Candy Robot No. 1 at the Interactive Show coming up June 10!
"Pneumatic Candy Robot No. 1 is a kinetic mixed-media sculpture combining candy with robotics. Candy serves as a medium to transform cold experiences with complicated technology into exciting accessible encounters. It invites the viewer to play by providing a surprising interaction, which aims to first make them laugh and then draw out their curiosity. In this way it can be an entry point to demystify potentially confusing technology while doubling as edible sculpture. Eating a candy robot engages all 5 senses, and then goes one step further by becoming part of the user. While each user can independently manipulate a spherical candy with the robot and eat it, by the end of the event the robot will be eaten in its entirety."
Artist: Kari Setsuko Love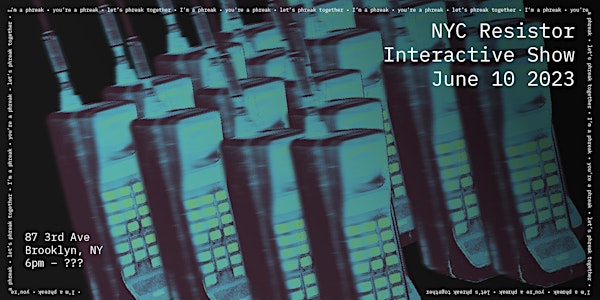 The 13th Annual Interactive Show: Robot Phreak Show
NYC Resistor's Interactive Show returns for its 13th iteration. Our annual party and fundraiser invites hackers from around the region to show off their cool interactive projects with free beats and beers provided. Tickets $17.85 ($15 + fees) in advance, $20 at the door.
This year's theme is Robot Phreak Show. Our bots have been cooped up too long, it's time to let their chaos reign. More projects to be announced soon. Keep checking the Resistor Blog and follow us on Instagram for previews!