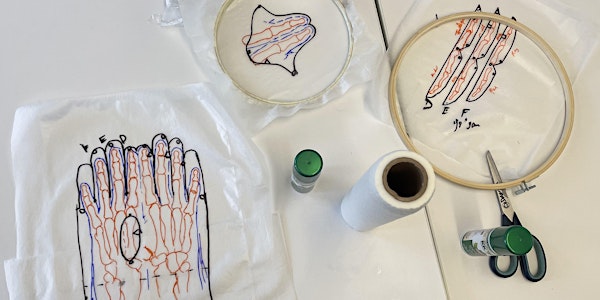 Ticket for this  Saturday, April 22 · 1 – 4pm EDT class are on EventBrite
Come try Free Motion Embroidery in this exploratory workshop!
Free motion embroidery, also known as free hand sewing, free machine embroidery and free machine stitching, is a technique in which you use the sewing machine needle as a 'pen' and move the fabric around in any direction under the needle.
During this 3 hour session, beyond sewn images you will be introduced to the various uses for Free Motion Embroidery from mending holes, to crafting sculptures out of thread.
The workshop will start with an overview with samples demonstrating various uses of free motion embroidery. Next we will configure the machine then get into mending a hole in fabric (darning). Once we have a handle on working with fabrics, we will learn how to sew on water soluble material to create sculpture.
All materials and tools will be provided for use during the workshop. You will also receive a resource guide for exploring this technique further on your own.
This workshop is for those with at least a beginners level experience with machine sewing. You must know how to thread a standard domestic sewing machine and sew a straight stitch.
The instructor:
Daniel Ryan Johnston – Brooklyn based queer textile artist, researcher, and creative technologist. I have been creating for the body since 2007. Mixing my love of creepy puppets, wearables and machine embroidery sculpture, my work explores personal experiences with managing mental health, body image and psoriatic arthritis. I am a graduate of Columbia College Chicago (BA), the Fashion Institute of Technology (AAS) and the Interactive Telecommunications Program at NYU (MPS).
N95 masks are required.
There is 1 need-based ticket available for 50% off, please use this ticket if the full price is a barrier to being able to participate in our community classes and workshops.