NYC Resistor at RC3 – Avatar Fashion Show is taking place at NYC Resistor on Wed, Dec 30. Tickets are available on Eventbrite.
Launching our virtual NYC Resistor Clubhouse and Hackerspace connector in conjunction with this year's Chaos Computing Congress (CCC).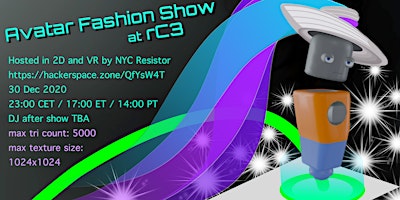 Resources:
The documentation here contains a github link where you can get the base model. Updates not in the document: You should use Blender 2.91 and the latest Hubs exporter.
For examples of how to rig your own model, watch this handy tutorial.
Additional things to know:
The lattice component morphs the model into skirt formation (will happen when the modifiers are applied on export). If you want a non-skirt robot model just delete the lattice modifier.
Make sure your animations are not in edit mode when you go to export. Go the the animation tab in Blender and make sure the bars in the key frame area are not green. If they are, click into that area and hit tab. If the bars turn orange, you're good to go. – Do not try to apply modifiers before exporting, instead check the Apply Modifiers box in the export settings when you export.
Make sure your Hubs components are in the right place: animation components (like idle_eyes) go on the avatar root, and morph keys (aka shape keys, used for, say, animating the mouth when talking) go on the mesh.