Come join us for a class! Tickets are available on Eventbrite.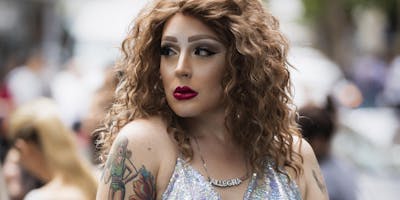 Join us on a journey to embrace your inner drag persona. Learn how to block your brows, contour your cheeks, and flash with lashes! This 3 hour intensive drag 101 workshop will cover base-level drag makeup application. Learn the ropes, put your own spin on it, and turn the party!
Drag Kit make-up bags with all the basic materials will be provided. Bring your favorite make-up items from home or we'll provide plenty of new samples for you to learn what you love!
Allegra Spread is a Brooklyn-based drag creature who burst onto the New York scene in 2017 and took the boros by storm. With a musical theatre / burlesque background, and a fine art degree, this comedian/costumer/makeup artist won't stop until she reaches the top! Follow her online at @allegradrag