Come join us for a class! Tickets are available on Eventbrite.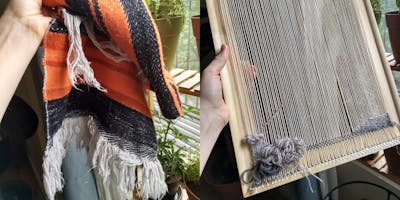 Join us September 1st for an afternoon weaving workshop. In this three hour class, we will make our own lap looms, learn basic weaving structures, and start individual tapestry projects. Though participants may not finish a piece in this timeframe, we will go over how to finish a piece and options to hang your work. Participants will walk away with the skillset to create their own weaving pieces on the lap loom beyond what we start in class.
Why learn to weave? Weaving has been around for centuries as a way to make fabric, tapestries, wall hangings, and rugs. The lap loom is a pair down version that is easy to learn and doesn't require a large amount of space. And weaving makes a great excuse for marathoning bad TV.
Material fees will cover supplies to make your own loom and a variety of yarn to choose from.
This class will be taught by Kayla Thompson.As with all NYC Resistor events, this class is 18+ and governed by ourCodeof Conduct. TheCodeof Conduct, as well as accessibility information, can be found at
www.nycresistor.com/participate/
.
Please note that refunds must be requested 72 hours in advance. If you have any questions, please email
[email protected]
.