Come join us for a class! Tickets are available on Eventbrite.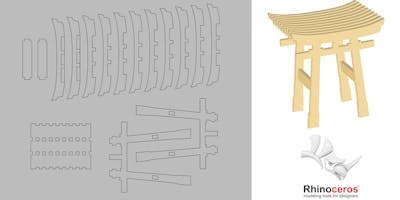 This class is limited to twelve students, reserve your spot now!
Three-dimensional computer models are used for concept design, prototyping on a 3D printer, making furniture on a CNC, creating realistically rendered images, making animations or games, and much more. In this class, you'll learn how to navigate 3D software and create computer models from scratch using Rhino3D. The software is easy to learn and is a great starting point for working in three-dimensions no matter what you want to create. You'll learn the fundamentals of working with various viewports, creating and editing basic and advanced geometry, as well as how to tailor your project for laser cutting and 3D printing.
You will create 3D computer models in Rhino3D throughout the class building your experience and knowledge. Learning how to operate the 3D printer and Laser Cutter are separate classes available at NYCresistor. You are invited back to NYCResistor on an open Craft Night on the evening of Thursday, May 10th where the instructor will be available to help 1-to-1 with your projects. If that Craft Night doesn't suit your schedule, please get in touch and we can hopefully arrange an alternative.
You should bring a laptop to the class and a click-button mouse. Download a 

90-day

 free trial of Rhino3D before the class.
The trial software is available on both Apple and Windows operating systems. Download trial 
Apple
 / 
Windows
. To maximize the length of your trial, don't install your software until the morning of the class.
This class will be taught by James McBennett who trained in architecture and specialized in advanced geometry. These are two examples of projects he worked on using Rhino 3D, 
Holmenkollen
 / 
This Stool Rocks
. James will be available for Q&A by email after the class, assuring everyone achieves their goal. NYC Resistor member Olivia Barr will also be present for this class.
As with all NYC Resistor events, this class is 18+ and governed by our Code of Conduct. The Code of Conduct, as well as accessibility information, can be found at 
www.nycresistor.com/participate/
. Please note that refunds must be requested 72 hours in advance. If you have any questions, please email 
[email protected]
.