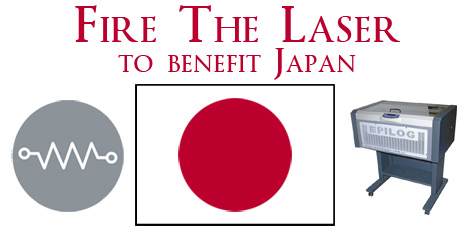 This is another class in a series of classes to help Japan recover from the effects of the devastating earthquake and tsunami of March 11th. All proceeds from this class will be donated to the Japan Society's earthquake relief fund
These classes fill up, reserve your spot now!
Harness the power of an Eplilog 35 Watt Laser! In this class you'll learn everything you need to know to make the ideas in your head become a reality with a laser.
In this two hour class, we'll walk through all the steps from idea to pressing the "go" button on the laser. We'll cover safety and basic design skills in Inkscape and you'll learn how to do a burninate test to find out if something is laserable. After the two hours, you'll have made a plaque for your door. (The extra two hours are for project completion time, but aren't necessary for learning the tools.)
After learning the basics, each student will create their own design and lasercut it on the laser! A $10 lab fee is included in the ticket price and covers acrylic and time on the laser cutter to cut and etch it.
This class is required for coming in to do work on the laser independantly. If you get inspired, you can come back and laser your objects.
This class is taught by NYC Resistor member Justin Day.